Our Values: Professionalism, Acceptance and Tolerance, Sharing, Listening
Enabling the programme participants to develop their sensitivity and enhance artistic expression through supervised practical work
Making it possible for programme participants to measure their progress by maintaining a training logbook
Creating a mechanism for real interaction between the trainers (who are active professionals) and programme participants, thereby cultivating a lasting link between training and practice of the profession
Supporting each programme participant in helping them take stock of their career goals and plans
Entry Requirements and Registration and Enrollment Process
– Minimum age: 18 years.
– Minimum education level: preferably, Baccalauréat (French undergraduate degree / diploma).
– Have a well developed artistic and aesthetic sense.
– Personal interview process.
– Pre-enrollment package including a questionnaire to be completed.
– For foreign students, knowledge of French is recommended (although it may be possible for the courses to be explained in English).
For individuals residing abroad or in the provinces, who are unable to participate in person in the interview, registration and enrollment by mail is possible.
Requests for Pre-enrollment packages and appointments may be submitted during the Institute's working days.
Organisation of Training Programmes
All courses are taught by Houda Remita and a team of instructors and trainers who are leaders in their field.
Demonstrations are held in the morning followed by practical work in the afternoon.
Programme participants may bring their own models.
An Evaluation will be performed on a monthly basis in order to assess the progress made by each participant.
For the nine month session, a final examination will be conducted in June under the scrutiny of a panel of experts.
Completion of each course shall be officially recognised with the awarding of a certificate of professional competence.
In order for the training programmes to be held under optimal conditions, D-mai shall limit its class size to 16 participants.
D-mai will organise a learning level evaluation process on a monthly basis, in the form of a professional situation based simulation exercise.
Throughout each session, D-mai organises discussions and exchanges with professionals from the fields of fashion, cinema, showbiz, the entertainment industry, and theatre, thus creating and developing an interactive and enduring bridge linking the training and instruction to the professional work environment.
Occupational integration will be facilitated by means of makeup professional internship and assistantship opportunities.
D-mai highlights the aspects of cultural, artistic and historical curiosity, with visits to museums and special training in beauty and costume history.
Creation and Maintenance of a Training Logbook
During the year, students are required to maintain a photo journal of their work, thus facilitating the measurement of their development and progress in the art and technique of makeup (this will by no means constitute a Portfolio).
Creation of the Portfolio : Presentation and Construction
The Portfolio is not only the calling card of the professional makeup artist, but also serves as their CV. In order to build their portfolios programme participants will be expected to exclusively seek out and collaborate with photographers and professional models.
The last week of June will be devoted to the final examination held before a panel comprised of professionals.
It will culminate in the presentation of the portfolio: black and white photos, colour, outdoor, studio, beauty, fashion, etc.
A certificate of professional competence will be issued at the end of the course.
Upon completing their training, programme participants will have acquired the relevant knowledge and expertise required to ensure they possess the skills of a makeup artist capable of:
– Responding to the needs of various professional client groups active in the fashion, audiovisual, cinema and theatre industries
– Assisting a Chief Makeup Artist
– Understanding and executing a makeup plan
– Establishing their position within a professional team
– Casting an insightful eye upon their profession
– Continuing to grow and to learn so as to thrive in their new activity
Assisting a professional Makeup Artist
Upon completing their training, D-mai will have equipped the future makeup artists with the skills and tools necessary to start their career.
In some sectors such as the film and fashion industries, it is strongly recommended that newly trained practitioners take their initial steps in a supporting role alongside a Chief Makeup Artist.
An assistantship provides the avenue – while both relevant and exciting at the same time – that enables rapid integration into the professional milieu.
After training, D-mai is committed to continue monitoring the makeup artists in their professional endeavours by providing: advice in developing and compiling the portfolio, suggestions for courses, contacts with professionals, support in professional, administrative and legal initiatives.
3 months > Professional makeup person Course
The course prepares the participant to become a :
Demonstrator for a cosmetics brand
Advising Makeup Artist in the beauty industry universe
Assistant Makeup Artist for fashion shows
6 months > Makeup Artist Course
The course prepares the participant to become a :
Makeup Artist in the Fashion Industry: Print Publication – Magazines, Fashion Shows, Photo and
Audiovisual Advertising Media
Makeup Artist for a Cosmetics Brand
Makeup Artist for Music Videos
Makeup Artist in audiovisual entertainment
Makeup Artist appointed by a personality from the world of music, cinema …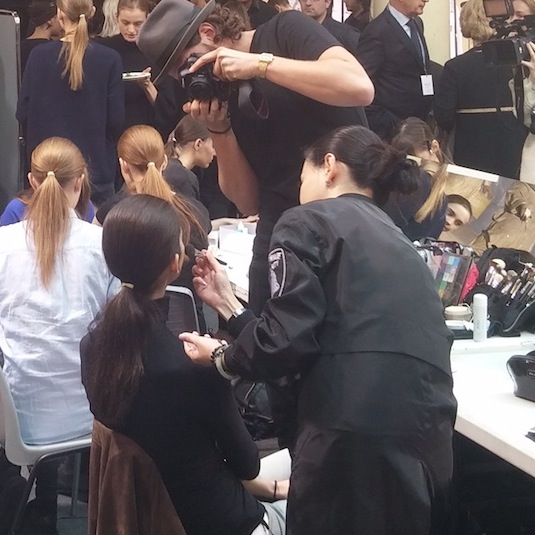 9 months > Specialist Makeup Artist Course
The course prepares the participant to become a :
Makeup Artist for a cosmetics brand
Makeup Artist in the Fashion Industry: Print Publication – Magazines, Fashion Shows, Photo and
Audiovisual Advertising Media
Makeup Artist for Music Videos
Makeup Artist appointed by a personality from the world of music, cinema, etc.
Makeup Artist on TV sets
Makeup Artist for Telefilms
Makeup Artist for the Film Industry
Makeup Artist for Shows
Makeup Artist for Theatre …